Stories From Your Mountain
BY: DAVID WILLMS

June 22, 2018 (reprinted from Feb. 29, 2016, Article)
(NOTE: This article was written more than two year ago, so some of the dollar amounts referenced have likely changed since then.)
The United States Fish and Wildlife Service ("FWS") listed grizzly bears in the lower 48 states as threatened under the Endangered Species Act ("ESA") on July 28, 1975. At the time, scientists believed as few as 136 bears remained in the Greater Yellowstone Area ("GYA"). Now, after four decades of conservation efforts, biologists estimate approximately 700, and likely many more, bears reside in the GYA. Rightfully, the FWS now stands at the precipice of deslisting those bears. 
Instead of celebrating this conservation success story, and shifting efforts to recovering truly imperiled species, some people actively advocate for continued ESA protections for the bear.  These individuals are often blinded by passion for a charismatic mega-fauna, distrust of state wildlife agencies, and a dogma of perpetual species protection. Consequently, as described below, their efforts are rooted in a series of claims that largely ignore science, and the language of the ESA. 
Claim #1: Yellowstone Grizzly Bears have not recovered enough to warrant delisting
Reality: Grizzly Bears have met every recovery metric for more than a dozen years, and there are no known threats to the bear's long-term survival.
The  language of ESA compels the FWS to delist recovered species. Two provisions are particularly important. Section 4(f)(1)(B)(ii) contemplates the creation of species recovery plans that result in species delisting when measurable criteria are met. Specifically, section Section 4(f)(1)(B)(ii) states recovery plans shall use, "objective, measurable criteria which, when met, would result in a determination…that the species be removed from the list." 
Section 4(b)(1)(A)-(E) lists the five factors that the FWS must evaluate (using the best available science) when determining whether a species warrants ESA protection. Those factors are, "(A) the present or threatened destruction, modification or curtailment of its habitat or range; (B) overutilization for commercial, recreational, scientific, or educational purposes; (C) disease or predation; (D) the inadequacy of existing regulatory mechanisms; or (E) other natural or manmade factors affecting its continued existence."
By either metric, the grizzly population of the GYA no longer warrants ESA protection. First, bears have exceed all population objectives in its recovery plan. That plan required several things: (1) maintain a minimum population size of 500 animals; (2) maintain a minimum of 48 females with cubs of the year in the GYA (cannot drop below 48 for any two consecutive years); (3) 16 of 18 bear management units must be occupied by females with young, with no two adjacent bear management units unoccupied; and (4) do not exceed annual mortality limits for males or females (males no more than three consecutive years, females no more than two). Notably, states have met each of these objectives since 2003.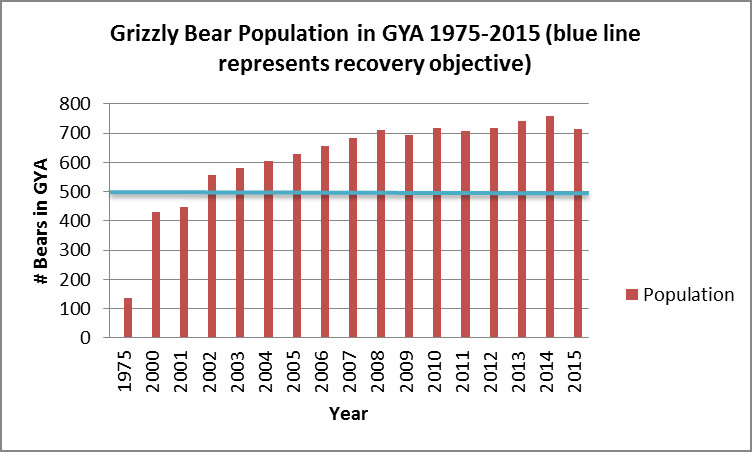 Second, no existing threats affect the bear's continued existence. The FWS attempted to delist the GYA bears in 2007 and conducted a threat analysis based upon the five-factor test of the ESA. In a lawsuit challenging that delisting, the 9th Circuit Court of Appeals concluded that the FWS failed to consider one potential threat to the grizzly's survival–the effects of a decline in whitebark pine trees resulting from a pine beetle epidemic (the tree's seeds are a grizzly bear food source). 
In response to the 9th Circuit decision, biologists immediately began to study the impacts of declining whitebark pine on GYA grizzlies. The results showed no negative population impact to grizzly bears in the GYA from whitebark pine declines. With the only outstanding question from the court that prevented deslisting in 2007 answered, and all recovery metrics met, deslisting is appropriate. 
Claim #2: Grizzly Bears Should Inhabit all of their Historic Range Prior to Delisting.
Reality: This cannot be done, and is not required by the ESA.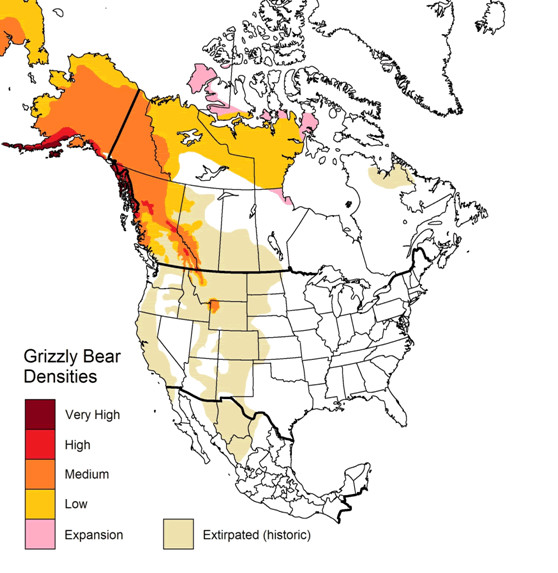 If returning species to all of its historic range were a recovery standard, the FWS would never delist a species, which runs counter to the understood purposes of the ESA. As recently as the 1850s, grizzly bears inhabited the San Francisco Bay Area. Other bears roamed the now plowed plains of Idaho, Kansas and Colorado. As troubling as it may be to admit, large swaths of the United States are no longer suitable for many species that once inhabited them–including grizzly bears. 
Are there areas of historic range that could support grizzly bear populations? Perhaps, but the ESA does not require restoration of a species to all of its historic range or even to a majority of its suitable habitat. Instead, the ESA requires that a species, or sub-population of a species, recover to the point that they are no longer at risk of becoming endangered or extinct in the foreseeable future. That's it. When a species meets that standard, as grizzly bears have in the GYA, the ESA requires the FWS delist that species.
Of course, nothing in the ESA prevents individuals from continuing to pursue recovery of grizzlies in currently unoccupied areas upon delisting of one population segment. However, the ESA does not permit delaying appropriate species delisting until those unoccupied areas become occupied. 
Claim #3: States are Incapable of Managing Grizzly Bears
Reality: State management played a significant role in grizzly bear recovery. Further, Congress contemplated a significant role for state management of listed species.
Not only are states capable of successfully managing grizzly bears, their track record since 1975 of recovering grizzly bears is well documented. States study population dynamics, genetics, distribution, and other aspects of bear biology. States trap and relocate problem bears, educate the public about the need for and proper use of bear spray, and encourage proper methods for storing attractants to prevent bear habituation. States provide financial incentives to landowners and engage in public education to ensure that local residents accept bears. These efforts, among others, were instrumental in bringing populations up from 136 bears just 40 years ago, to roughly 700 today. 
States invest significant resources in grizzly bear management. Wyoming spent $2,278,218 on grizzly bear management in 2015, and $11,551,584 from 2010-2015. Montana's and Idaho's annual expenditures total $875,000 and $200,000, respectfully. With an estimated 714 bears in the GYA in 2015, the states are spending roughly $4596 on each bear annually. Comparatively, Idaho spends $6,791 annually per child on k-12 education.
In addition to decades of state management aiding bear recovery, Congress intended states to manage listed species. In fact, Congress envisioned a system where states would enter into cooperative agreements with the FWS to manage and recover listed species. Congress recognized through Section 6 of the ESA, that for the ESA to succeed, the FWS would have to rely on the states' technical expertise, superior regional staffing, and infrastructure. The vision of Section 6 has not materialized; yet, states continually show their effectiveness in managing and recovering species. 
Finally, skeptics of state management often express concern that GYA bears will instantly suffer catastrophic population declines at the hands of state wildlife managers. This assertion lacks any factual basis, other than to cite the bygone era of large predator extermination – of which the federal government shares guilt. States will implement a multi-agency agreed upon, conservative conservation strategy. This strategy will include population, mortality, and distribution objectives aimed to ensure GYA grizzlies never warrant ESA protections again. All of this establishes that states are effective and committed wildlife managers. Of course, the ESA provides multiple mechanisms for reestablishing protections for the bear if warranted. 
Claim #4: The population is too small and isolated to ensure long-term viability
Reality: Though the GYA population is isolated from other grizzly populations in the lower 48 states, it inhabits a large geographic area, and will remain genetically viable for the foreseeable future.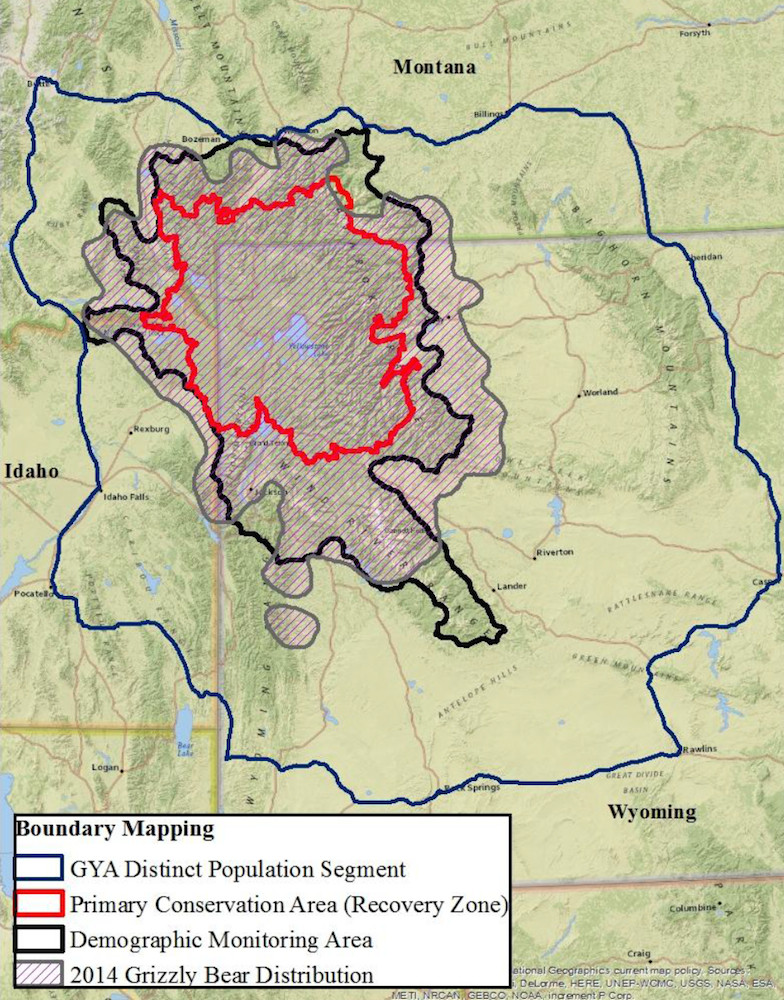 The GYA covers approximately 34,375 square miles – an area roughly the size of Indiana. Of that, about 17,774 square miles are deemed suitable grizzly bear habitat. Grizzly bears currently occupy 16,286 square miles–roughly 90% of suitable habitat. This occupied area is nearly the size of New Jersey, Connecticut, and Delaware combined. Occupied lands currently host a conservative estimate of roughly 700 bears, though many leading experts believe that number is likely much higher. When the FWS first attempted to delist bears in 2007, it indicated that 100 bears was the minimum viable population, and 400 as the number required to ensure genetic viability. Populations have exceeded these thresholds for years.
Further, a recent study published in Molecular Ecology confirms that the population remains genetically viable. That study shows that grizzly populations have grown continually since the 1980s, when populations were in the low 200s, with no loss of genetic diversity. In layman's terms, the study establishes that bears have not inbred, and the viability of this population is secure into the foreseeable future. 
Claim #5: People Should not be Permitted to Hunt Grizzly Bears
Reality: This objection is purely philosophical. Legally, once the FWS delists the bear, states are free to use hunting as a management tool as they do for many other species. 
The ESA generally does not permit hunting listed species (though Congress may contemplate it in certain cases for threatened species). People have not hunted grizzlies in the GYA since they were listed in 1975. Yet, hunting could occur once the FWS delists the grizzly bear. On a philosophical, and visceral level, some people find it troubling that a species once nearly hunted, trapped, and poisoned to extinction could find itself hunted again. However, from a legal perspective, states are free to use hunting as a management tool for delisted species, unless hunting jeopardizes the continued existence of the species.
Hunting grizzly bears will not jeopardize their continued existence. The States will employ very conservative discretionary mortality limits for bears, which may include, among other forms of mortality, hunting and removal of habituated or aggressive bears. When mortality limits are met, the states will adjust their management accordingly to ensure stable grizzly populations in the GYA. If they do not act conservatively, states risk the prospect of the FWS relisting the GYA grizzly–something no state wants.
Claim #6: Habitat is at high risk of destruction. 
Reality: In the Greater Yellowstone Area, the risk of substantial habitat fragmentation/destruction is quite low.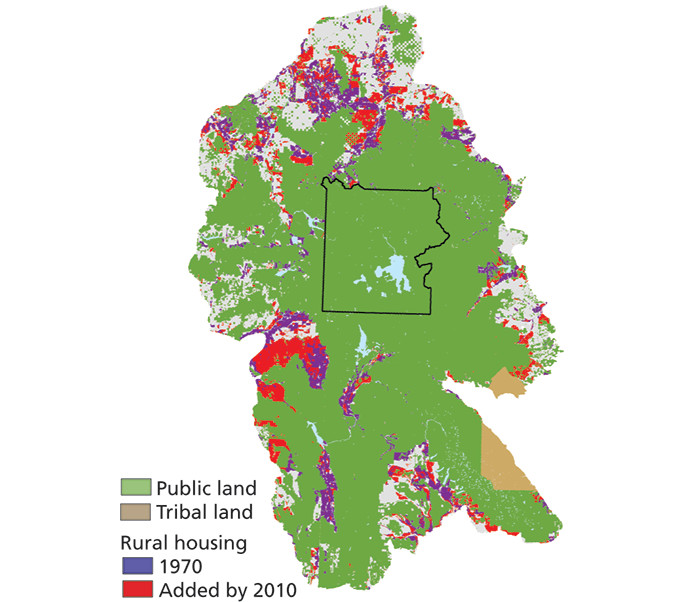 In some parts of the country, habitat fragmentation presents a significant threat to the long-term survival of species. However, habitat in the Greater Yellowstone Area remains largely in-tact. Roughly 3/4 of land in the Greater Yellowstone Area is federal or other public land with very little prospect of development. Wyoming alone hosts 8,758 square miles of wilderness or national park in the GYA–an area roughly the size of New Hampshire, and larger than New Jersey. 
Additionally, grizzly bears have not suffered from what little habitat fragmentation has occurred over the years. Specifically, grizzly bear range expanded 11% during the 1980s and another 34% during the 1990s. Expansion continues, albeit at a slower pace as suitable habitat for bears reaches its carrying capacity in the GYA. FWS correctly concluded habitat destruction presented little risk to the GYA grizzly in 2007 when it originally pursued delisting, and it continues to present little risk today.
Claim #7: 50,000 bears once roamed the lower 48 states, so the 2,000 currently in the lower 48 are not enough.
Reality: Scientists cannot verify the estimate of 50,000 bears, and 2,000 bears sufficiently ensures bears will not become endangered or go extinct.
Biologists, politicians, and grizzly bear advocates often cite that grizzly bear numbers in the lower 48 states have dropped from over 50,000 bears roughly 200 years ago, to approximately 2,000 bears today. While there are almost certainly fewer grizzly bears today than existed 200 years ago, claiming 50,000 with any level of certainty is at best unreliable. One must only look at scientists' lack of precision when estimating current populations to understand the unreliability of estimates from 200 years ago. 
Scientists have a host of scientific methods available to them to estimate populations today, including among other things: DNA, GPS collars, aerial surveys, and motion sensor cameras. Even using the best scientific data available, scientists are only able to estimate with 95% confidence that bears in the GYA numbered between 674 and 839 bears in 2014. Of course, the same scientists explain that the estimator provides conservative results, and the actual number of bears may be much higher. Clearly, if estimating living bears in a geographic range the size of Indiana lacks precision, population estimates targeting conditions on the entire continent 200 years ago must be viewed with some skepticism.  
All that said, historic estimates are not the gauge for determining whether a listed species warrants continued ESA protection. Instead, the FWS makes a determination, pursuant to the five-factor test of ESA, whether a species is likely to become endangered or extinct throughout all or a significant portion of its range within the foreseeable future.
In the case of the the GYA grizzly bear population, bears have met or exceeded recovery objectives for over a dozen years, and there are no known threats to the continued survival of the species. FWS rightfully concludes that based upon the best available science, the GYA grizzly bear does not risk becoming endangered or extinct in the foreseeable future. 
Finally, ESA still provides a safety net for the bear. If the states do not adequately manage bears, or grizzly populations decline to the point that they are again in jeopardy, the FWS can relist the bear. Knowing the challenges that come with an ESA listing, and the public's desire to see bears on the landscape, states have an incentive to conserve the bear for the enjoyment of future generations.
In short, for biological and legal reasons, it is time to declare success under the ESA, and delist the GYA grizzly bear population. 
Update: On March 11, 2016, the US Fish and Wildlife Service published a proposed rule to delist the GYA population of grizzly bears. The FWS will take comments on the proposed rule and an accompanying draft Conservation Strategy until 11:59 p.m. Eastern Time on May 10, 2016. You can submit comments by going to the Federal eRulemaking Portal at : https://www.regulations.gov/#!documentDetail;D=FWS-R6-ES-2016-0042-0001 and clicking on the "Comment Now" button.
Update 2: On June 22, 2017, the US Fish and Wildlife Service announced its decision to issue a final delisting rule for the GYA population of grizzly bears. The final delisting rule is available for review on the FWS website, and will publish in the Federal Register in the coming days. The final rule will go into effect 30 days after publication, and at that time bears will be managed by Wyoming, Montana, and Idaho officials pursuant to their respective approved Grizzly Bear Management Plans.
If you enjoyed the post, please click the thumbs up icon above, or consider sharing. Agree/Disagree with my thoughts? Did I leave questions unanswered? Let me know in the comments.
Photo credits: Population chart: David Willms; Historic Distribution: P. McLoughlin; GYA Grizzly Bear Boundary Map: Wyoming Game and Fish Department; Land Ownership/Development Map: National Park Service
BY: DAVID WILLMS

June 4, 2018
 Welcome to YOUR MOUNTAIN
There are more than 2.4 billion acres of land and water in the United States. We rely on this land for everything that makes the United States a prosperous nation. Mining supports our electricity, military, technology, renewable, and infrastructure needs. Agriculture feeds our growing population. Oil and gas fuels our trains, planes, and automobiles. Forests provide materials for homes and the paper products we demand.  Water is the lifeblood for it all. Yet, this land and water provides so much more.
They support a national recreational economy that surpassed $800 billion in 2017. Whether you hunt, fish, backpack, ski, hike, photograph wildlife, mountain bike, or partake in myriad other outdoor activities, you contribute to this number every year. The activities are important to you, and no doubt you want to keep recreating – I know that's what I want.
Land management is complicated. Managers must balance the basic needs of the nation (food, water, shelter, security), with other important needs like open spaces, vibrant wildlife populations, clean air and water, and places to recreate. Sometimes these needs mesh well together, other times they breed controversy.  That's where YOUR MOUNTAIN can help.
Our mission is simple – educate and entertain. If there's a big decision affecting your land, water and wildlife we want you to know about it. Each week, the YOUR MOUNTAIN podcast will bring thought leaders, experts, and entertainers to the show to tackle pressing issues in a thoughtful, pragmatic, and entertaining way.  Thank you for joining us on this exciting journey. Subscribe to the podcast, follow us on Facebook, Instagram, and Twitter, and find us at itsyourmountain.com. 
Welcome to Your Mountain.